Since our inception in 2017, the Skeena Knowledge Trust has been working to address key information and knowledge gaps relevant to salmon ecosystems with the goal of supporting healthy watersheds and salmon populations through more sustainable land use decisions in the Skeena River Watershed. But what does that actually look like?
Our first step was to build and populate the Skeena Salmon Data Centre (SSDC) – the data hub designed to be a common knowledge management system and comprehensive source for essential information on salmonid populations, habitats, water quality, climatology, and land use across the Skeena.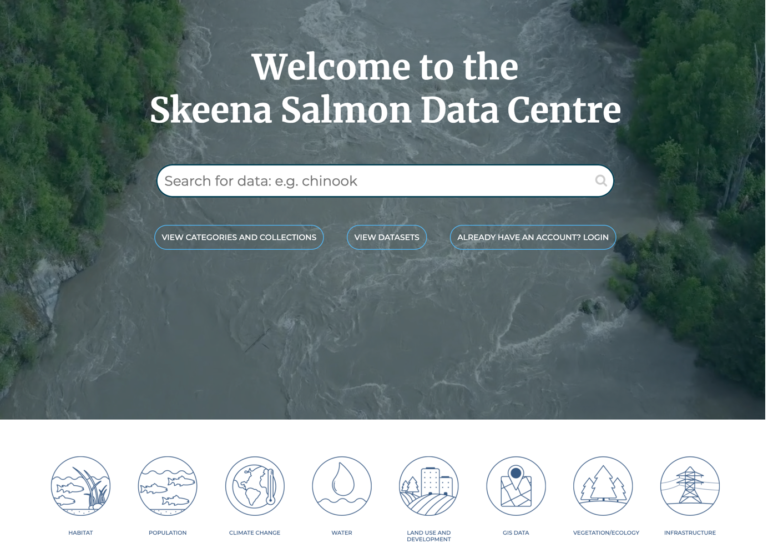 Skeena Salmon Data Centre homepage
The SSDC is a one-stop-shop, with links to current datasets as well as archives of historical reports. It also enables grassroots organizations to engage in relevant land use planning and land development issues by providing a central, organized, and accessible space to house information.
The Skeena Maps Portal (SMP) came shortly afterwards when we heard from stakeholders frustrated by the technological barriers involved in accessing spatial information such as land zoning, valued ecosystem mapping, and proposed project footprints. The SMP removes those barriers by providing viewing and querying capabilities for hundreds of spatial layers, including the ability to quickly make customized maps using an internet browser.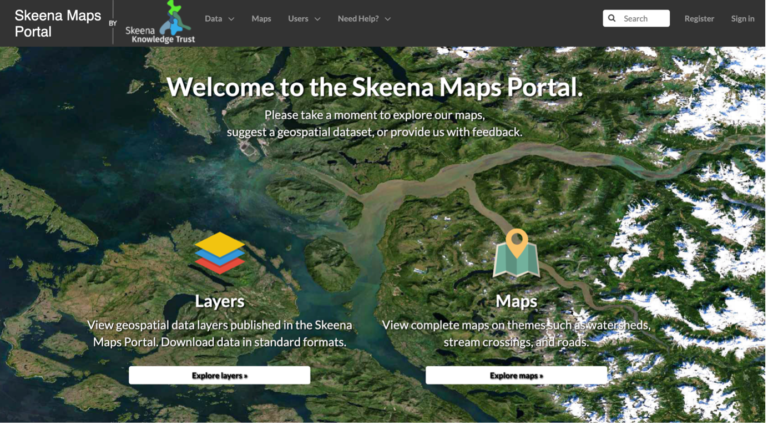 Skeena Maps Portal homepage
Some examples of SMP projects are highlighted in our Skeena Maps Portal Supports Land Use Decision-Making case study.
Both the SSDC and SMP adhere to the principles of OCAP©(Ownership, Control, Access, and Possession) with data owners retaining ownership of their data and setting terms for data sharing as described in our Data Policy.
With our knowledge tools up and running, we turned our focus towards building and strengthening our relationships with community and First Nations organizations, researchers, and government scientists and policy-makers to raise awareness of our knowledge tools and promote their use in accessing and sharing relevant data and research.
Over the last few years, we have been provided a variety of customized workshops to ensure our stakeholders can leverage our comprehensive knowledge mobilization tools to their full potential. We have also built out our Help Pages and provided case studies with instructional videos which our stakeholders can refer to and access on-demand.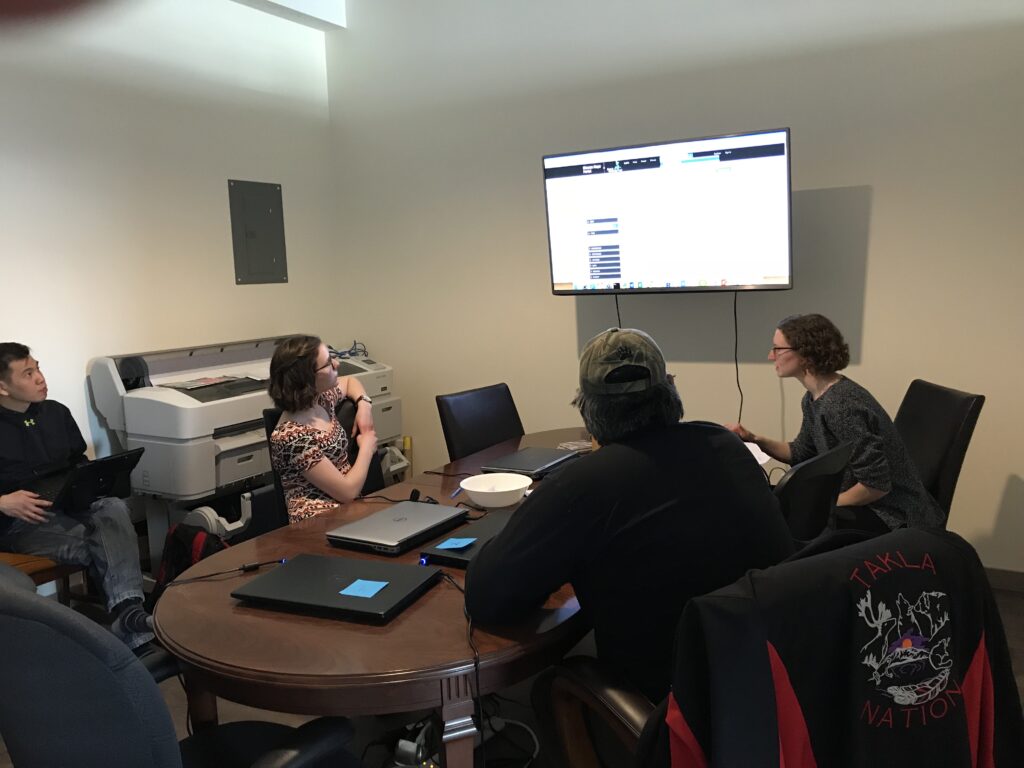 Lizzy Hoffman giving a Skeena Maps Portal demonstration as part of a workshop.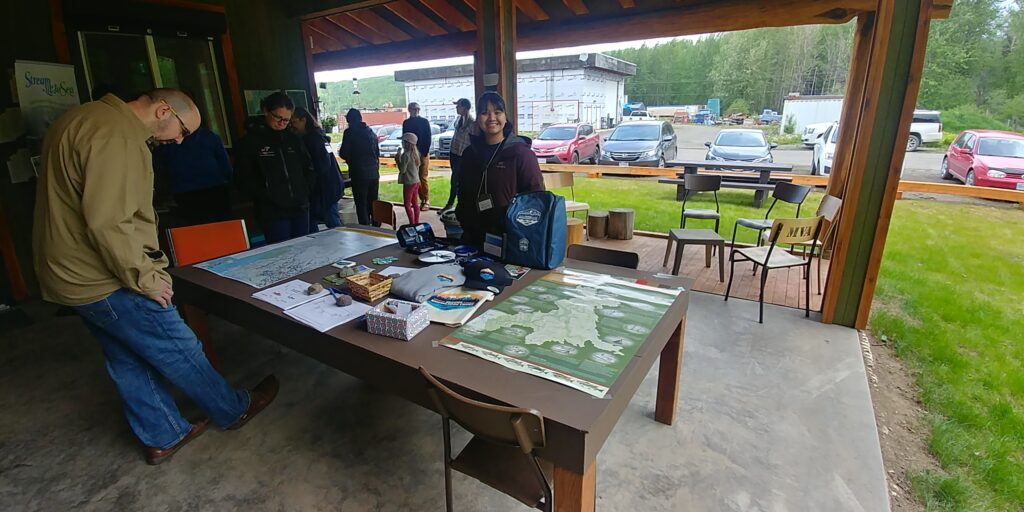 Reine Vizcarra connects with Bulkley Valley residents at the Houston Nature Centre's Goodbye Fry event.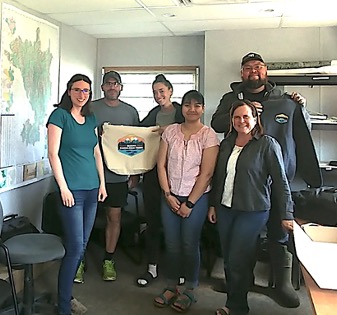 Ekaterina Daviel and Reine Vizcarra with Gitksan
Watershed Authority staff following a workshop.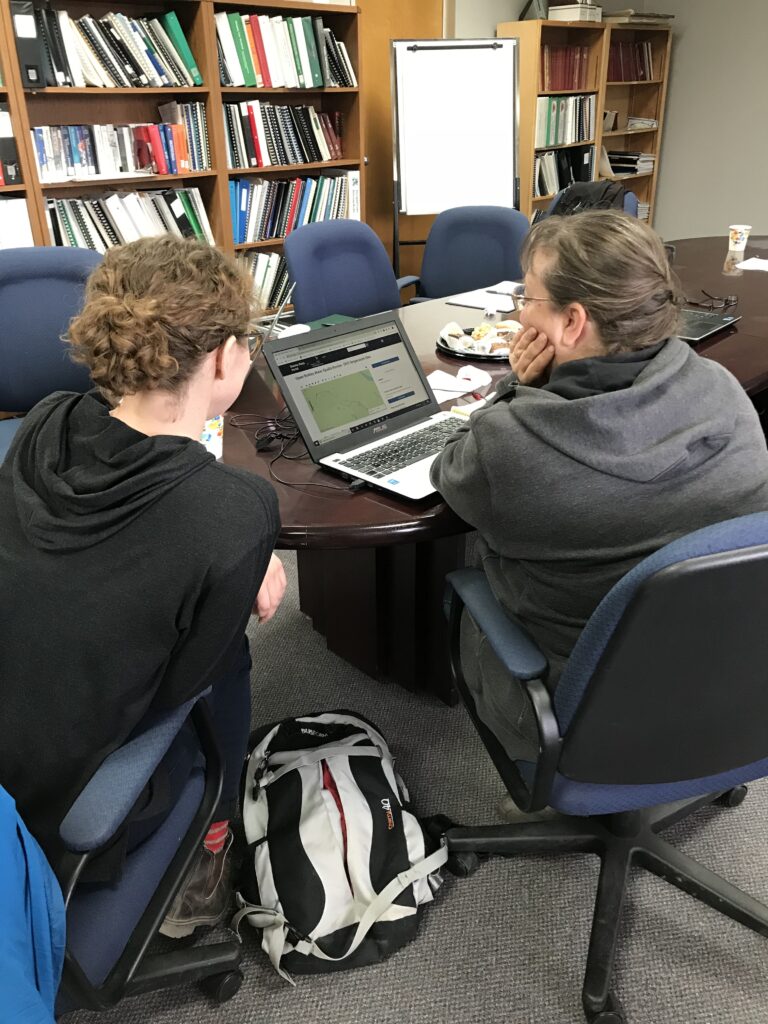 Lizzy Hoffman walks through creating a map on the Skeena Maps Portal.
The Skeena Knowledge Trust does not have a one size fits all approach to our work. We try hard to listen to the information management needs of the many community and First Nations organizations we work with collaboratively. This approach allows us to tailor our work according to the needs of the organization, promoting flexibility and continuous learnings. We also work with many community-based grassroots organizations, collaboratively leveraging the SKT's knowledge mobilization tools to integrate the unique land use knowledge requirements of the organization and ensure they have the most current information to make land use decisions.
In 2022, we were honoured to have our innovative approach recognized by the Real Estate Foundation of BC when our Knowledge Mobilization Across the Skeena Watershed project was selected as a finalist for a Land Award out of many projects from across BC!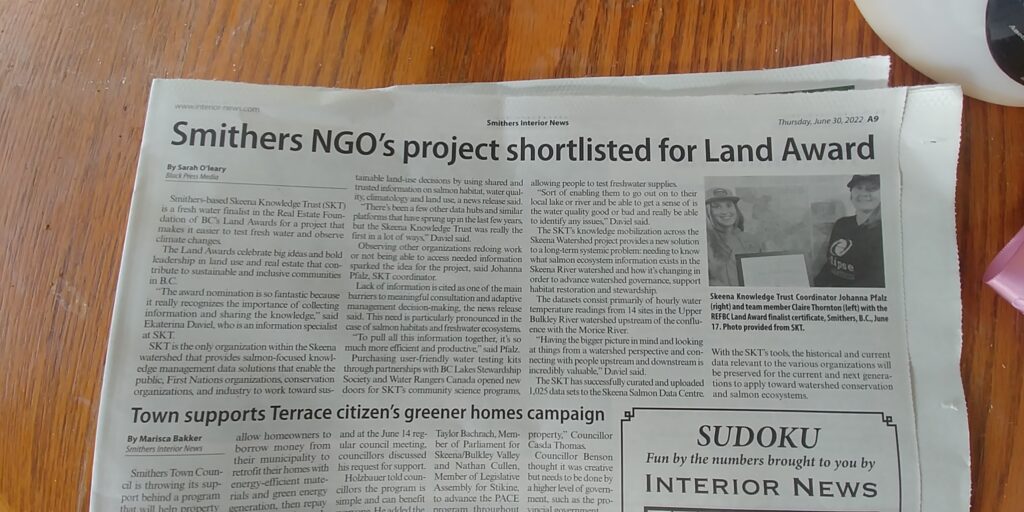 News article featuring the Skeena Knowledge Trust
While we are continuously adding new datasets to our knowledge tools as they become available, we have been promoting the adoption of the SSDC as a true community data hub, enabling direct access by partner organizations to upload and manage their own datasets while maintaining a high standard of data description and utility. We are also continuing to provide workshops and support on an on-demand basis while pursuing new partnerships and project collaborations.
Are you interested in learning more about our knowledge tools or have a dataset you would like to share? Please contact us at info@skeenatrust.ca.
We gratefully acknowledge and thank our funders, especially the Real Estate Foundation of BC, MakeWay, Lush Canada, Wetzink'wa Forest Corporation, and the Gord and Betty Moore Foundation for your support of our work over the years. We would also like to thank our many stakeholders, project partners, and hardworking trustees for providing feedback, suggestions, and encouragement as we pioneered the concept of a Skeena-focused data hub.